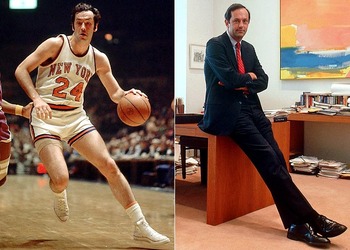 Best Season as a Knick- 1972-73- 16.1 PPG, 4.5 Assists, 871 FT%
Not only was Bill Bradley an all time great Knick, but he was probably the most intelligent player to ever wear the blue and orange. That is no insult to every Knick who played for the franchise considering Bradley was an Ivy leaguer and U.S senator. You do not see too many Princeton guys who become stars in the NBA. Most guys playing in the league today did not even graduate college.
What is most impressive about Bradley is how unselfish of a player he was. This was a guy who set practically every statistical record in college, yet as a Knick completely sacrificed his entire game for the good of the team. Can you imagine saying that about today's players? There is no chance anyone would do that. Bradley's sacrifice helped the Knicks win two NBA championships.
Bradley's game was a perfect fit for the 2 championship teams. He had the ability to do anything he wanted on the court. He was unselfish, a good shooter, and underrated passer.
Being an Ivy league student, he was incredibly smart and displayed that on the court. His basketball IQ is one of the greatest of all time. A player of his ability combined with a Princeton academic degree is a dangerous combination.
Bradley was elected to the basketball hall of fame in 1983, and his number 24 jersey was raised to the Garden rafters in 1984. He was the 4th Knick to have that honor.
By Robert Bonanni
Tags: Bill Bradley New York Knicks