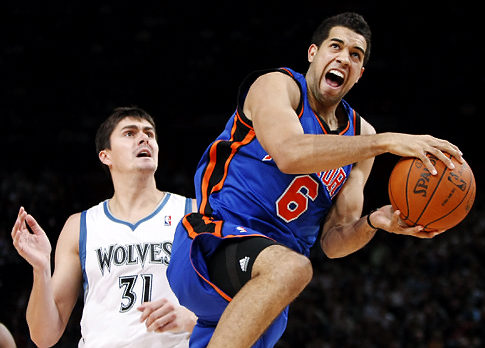 The Knicks were dissected on ESPN.com's 5 for 5 recently. The questions touched on several recurring issues: The possibility of CP3/Dwight Howard helping form another Big 3, Mike D'antoni's footing, and the Carmelo trade. But one of the questions stood out, "Fact or Fiction: Landry Fields is a legitimate starter for a contender." It was the only question to have a unanimous response, with all five answering participants saying "fact".
The way this question was worded is a bit tricky. Landry Fields might be a legitimate starter for a contender, but that doesn't necessarily mean he fits with the New York Knicks. After Carmelo Anthony came on board, Fields wasn't the same player—he was a turtle sulking back into his shell whenever Anthony held the ball, which was a lot.
Devin Kharpertian, Nets Are Scorching: Fact. He's not a top starter, but Fields is exactly the kind of player you'd want next to a Big Three — a guy who knocks down 3s, picks up hustle points, grabs rebounds and doesn't shy from big moments.
Fields can knock down 3's, but he only made one per game last year. Forget about the 39% he shot for the season, one a game is one a game. This isn't entirely his fault, but in order for Fields to gain the trust of new teammates like Carmelo and Chauncey, he'll need to attack whenever the opportunity presents itself. He didn't do that.
As for not shying from big moments, Landy Fields was a hologram for the last month of the season, and a ghost in the playoffs. So, yea…I'd say he shied away from the biggest moment.
Can Fields start for a contender? Sure. Would the Knicks be in a better place if they included Fields in the Carmelo trade instead of Gallo or Wilson Chandler? Looking at it today, most likely.
Tags: Landry Fields