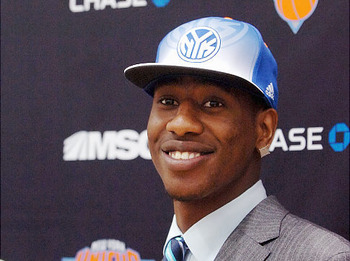 Admit it, you've never seen Iman Shumpert play organized basketball. Since coming out of nowhere on draft night, he's been everywhere, and to be honest it's a little exciting. A few days ago, Shumpert gave an interview with HoopsHype and among the many interesting things he says, this is the most delightful.
Which player do you admire because of his defensive skills?
Iman Shumpert: I really admire Jason Kidd. He's the first player I've ever seen dominate a game without having to score as much as everybody else. Seeing him finally get the championship just confirms that I just need to make sure I work my game to get better every day.
It's more likely I get struck by two separate bolts of lightning, one in each eyeball, as I write this, than Shumpert to have even 60% the career Jason Kidd has had, but his mentality here is wonderful. Kidd is the perfect role model for any human being who hopes to play a capable point guard, and for Shumpert to say he'd rather be like the defending champ than, say, John Wall or Derrick Rose—two fantastic scorers—is beyond great news.
Tags: Iman Shumpert