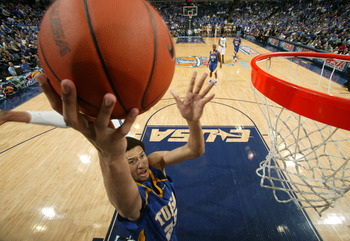 What do we know about Jerome Jordan? He plays basketball. He's Jamaican. He's 24-years-old. He's currently living in Serbia. Oh, and lest we forget, he's a legitimate 7'0″. This is the somewhat mysterious big man who the Knicks own rights to. Originally drafted by Milwaukee with the 44th overall pick in last year's draft, Jordan was traded to the Knicks for cash considerations and immediately went to Serbia to hone some of those big man skills at a professional level. In 25 games for the Adriatic League Jordan shot a remarkable 74% from the field while playing just 15 minutes a game. His most impressive performance came in a 38 minute, 23 point (11-16 from the FT line), eight rebound performance against the highly respected and unpronounceable Krka squad.
A few days ago Chris Sheridan took a closer look at Jordan, diving into the similarities between him and former Pacer, Raptor, Bull, and Knick Antonio Davis:
It was 21 years ago that Donnie Walsh drafted a scrawny kid out of Texas-El Paso with the 45th pick who was athletic and promising but wasn't yet strong enough to compete with the manly men who populated the NBA.

So Antonio Davis was sent first to Greece, where he toiled for two years for Panathinaikos, and then onto Italy, where he spent a season with Philips Milano. When he returned to the States in 1993, he was ready to play in the Indiana Pacers' frontcourt alongside Dale Davis and Rik Smits.

"When he left, he was a big tall skinny kid who could jump out of the gym. When he came back he was a big, strong guy who could jump out of the gym and was ready to run through a wall," Walsh recounted. "He came back a man."

The story of Davis' pre-NBA career merits mention for Knicks fans because Walsh brought his name up in discussing the status of Jerome Jordan, the second round pick (44th overall) of last June's draft, from Tulsa, whose rights were acquired in a draft night trade with the Milwaukee Bucks in exchange for $500,000.
We touched down with Jordan a couple weeks ago, but with the draft coming up and the Knicks looking for a serious revamp in their frontcourt much is to be said about a true seven footer who the Knicks could deploy as early as next year, whenever it starts. How exciting!
Tags: Jerome Jordan