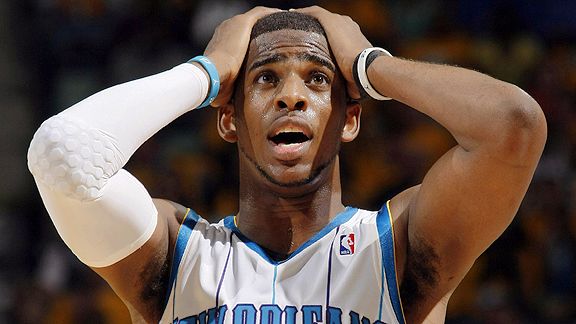 No, no. Settle down. Not even close. But for one night he was, without a doubt. The bulk of today's Linkin' Center will revolve around those two players, with a slight edge in content going to Paul. In my opinion it's sad, really, that the fans at MSG would cheer for a visiting star when they finally have 2.5 of their own. It feels so out of touch and unrealistically low. You know what it is? It's like buying roses for a pretty girl who, while tipsy at a party six months ago, said you were cute. Then when Valentine's Day rolls around, while you're in a happy relationship and she's six years into a slightly rocky commitment, you have roses delivered to her at work. It's kinda like that, in a pathetic and desperate kind of way. When you cheer an opponent hoping to sway them in a free agency decision that's not for another 14 months, how can you expect that player to respect you? Whatever. Call me old school. The Knicks don't even need a point guard! Alright I'm over it. Onto the links before my eyes explode.
* Even though he couldn't play, it looks like Chauncey Billups had his fingerprints all over Tony Douglas' wonderful performance.
* Don't get me wrong, it'd be GREAT to have Chris Paul come aboard, but chances are the Knicks simply won't have the cap room. So let's stop worrying about it.
* Our brother's over at Swarm & Sting are feeling sad over last night's beat down. In a small step towards cheering them (and yourself) up, read their recap of last night's game.
* You know what you're getting every game from Carmelo and Amar'e. It's when the unexpected guys step up that the Knicks look like a very, very formidable opponent.
* The harsh truth about a team finally finding its way.
* Why Donnie Walsh hasn't had his contract extended yet is anybody's guess. Here's a breakdown of why it's a considerable concern.
* More on the toast heard round the world.
* Is New York the greatest thing to happen to basketball since the three-point line? No. Unless you work in television.
* Reiterating that last question, we'll let a panel of NBA.com writers give their thoughts.
* Someone in New Orleans is a sore loser. Then again, he does have a point with this whole "Mardi Gras" deal.
* Looks like Toney Douglas should get another start against Cleveland on Friday.
Tags: Chris Paul Toney Douglas